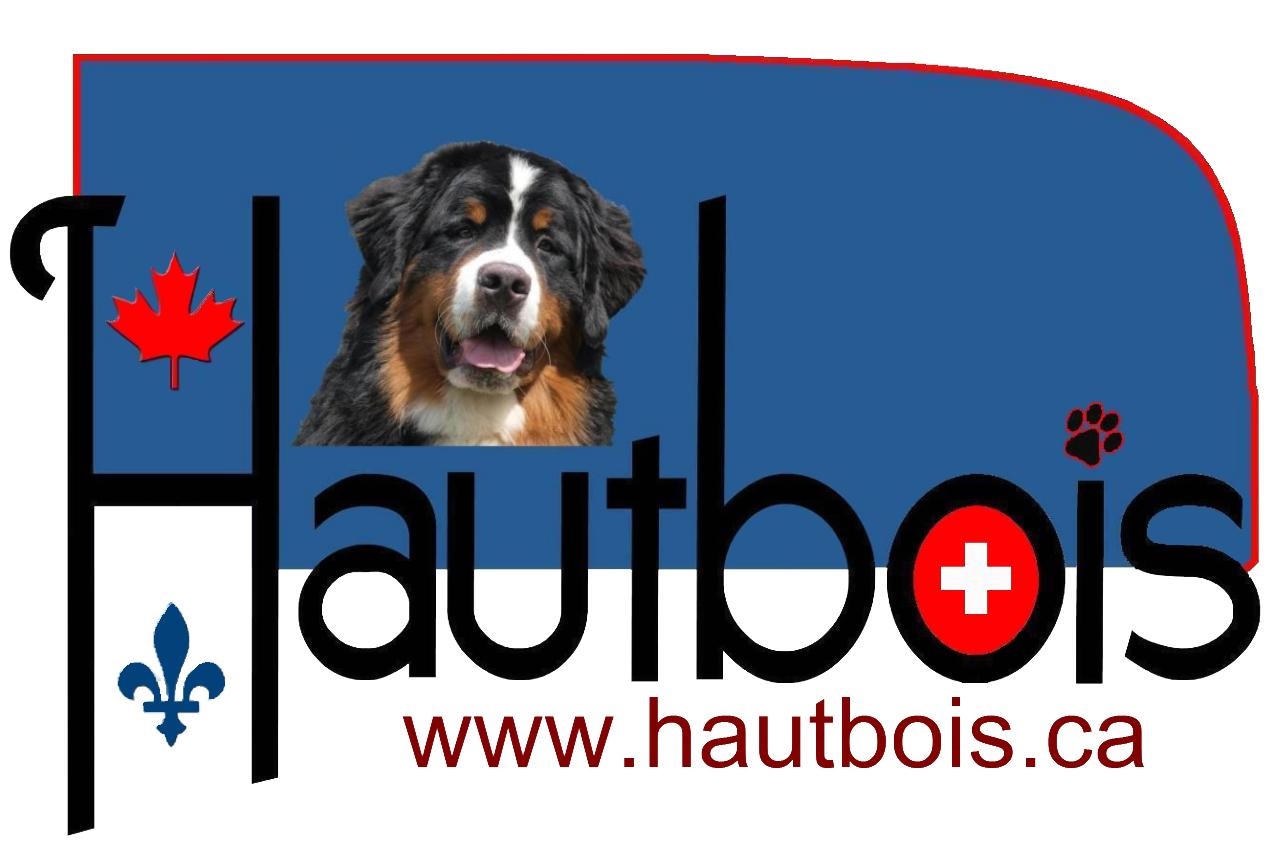 HAUTBOIS
Perm. Reg'd
(Depuis / Est. 1991)
Bouviers bernois
Bernese Mountain Dogs
Perro Boyero de montaña bernés
Berner Sennenhund
Adresse postale:
Postal address:
C.P. / PO Box 3131
Richmond, Québec
CANADA J0B 2H0
Tel.: (819) 823-5037
Adresse du chenil:
Kennel address:
Disponible sur demande
Available upon request
---
---
Certifications
| | | |
| --- | --- | --- |
| Général | Bernergarde | General |
| Hanches | | Hips |
| Hanches | | Hips |
| Coudes | | Elbows |
| Yeux | | Eyes |
| Coeur | | Heart |
| MD | | DM |
| vWF | | vWF |
| ADN | | DNA |
| ADN | AKC | DNA |
---
Membre éleveur
Breeder Member
---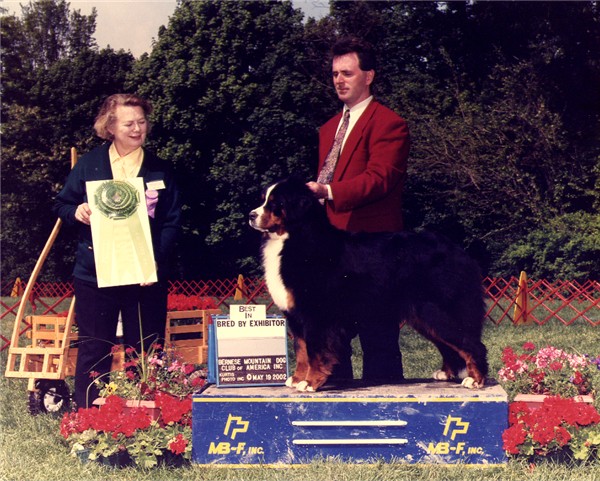 Nous avons participé aux
éditions suivantes de la Spécialité nationale annuelle du BMDCA
We attended the following BMDCA National Specialty Shows
2016 Frankenmuth, MI
2014 Hampton, VA


2012 Gettysburg, P

A
2011 Del Mar, CA
2010 Oconomowoc, WI
2009 Portland, OR
2008 Warwick, RI
2007 Louisville, KY
2006 Frankenmuth, MI
2005 Gettysburg, PA
2004 Mesquite, TX
2003 Long Beach, CA
2002 Wheeling, WV
2000 Delavan, WI
1999 Tucson, CA
1998 Warwick, RI
1997 Estes Park, CO
---
Site MENU is on top of each page
Copyright 2004-2016 Chenil Hautbois Kennels

Can Ch Hautbois Maestro
En avril 2003, à 10 mois d'âge, Maestro fut présenté à l'exposition nationale annuelle du BMDCA, tenue à Long Beach, Californie. Mme Deborah Mulvey le décora du premier prix dans la classe sweepstakes mâles 9 à 12 mois. Par la suite, il y reçut le deuxième prix dans la classe régulière équivalente des mains de madame Sharon C. Smith. En mai 2003 à Ottawa, madame Marjorie Reho (Dallybeck Kennels, USA) lui décernait le premier prix du sweepstakes mâles 9-12 mois lors de la Spécialité annuelle du Bernese Mountain Dog Club of Ontario. Son grand-père paternel "Mark" fut le Top Conformation Dog du BMDCA en 1996 et reçut un "Award of Merit" à la Spécialité annuelle du BMDCA en 1999 (Tucson, Arizona). Le 12 mai 2005, lors de l'exposition nationale annuelle du BMDCA tenue à Gettysburg (Pennsylvanie), madame Deborah Mulvey (Vermont, USA) sélectionnait Hautbois Maestro parmi les 12 finalistes de la classe ouverte qui comportait 28 mâles.

Il fut euthanasié le 17 juillet 2009 à l'âge de 7ans des suite d'une myoentéropathie de cause indéterminée et d'une hyperplasie kystique de la prostate. Aucune évidence d'entérite inflammatoire chronique ou de processus néoplasique n'étaient présents à l'autopsie.

Maestro did his first show at the the BMDCA National Specialty Show in Los Angeles, in April 2003. Mrs Deborah Mulvey gave him the first prize in the 9-12 month puppy sweepstakes. Mrs Sharon Smith gave him the 2nd place in the regular 9-12 month class. Mrs Marjorie Reho (Dallybeck Kennels, USA) gave him the first place in the 9-12 month sweepstake at the BMDCO Specialty Show, in Ottawa in May 2003. His paternal grandfather "Mark" was the Top Conformation Dog of the BMDCA, in 1996 and won an Award of Merit at the 1999 BMDCA National Specialty Show (Tucson, Arizona). On May 12th 2005 at the BMDCA National Specialty in Gettysburg (Pennsylvania), Mrs Deborah Mulvey (Vermont, USA) kept Hautbois Maestro within the 12 finalists of the male open class (28 entries).

He had to be euthanized in July 2009 while he was 7 years old. The autopsy showed a myoenteropathy who was not related to any inflammatory bowel disease or neoplasic process. He also had a cystic prostatic hyperplasia.
| | | |
| --- | --- | --- |
| Bernergarde (Pedigree) | 19226 | Bernergarde (Pedigree) |
| Sexe | M | Sex |
| Date de naissance (AAMMJJ) | 020609 | Date of birth (YYMMDD) |
| Date de décès (AAMMJJ) | 090717 | Date of death (YYMMDD) |
| Enregistrement CKC | ML821872 | Registration (CKC) |
| Enregistrement AKC | WS12934401 | Registration (AKC) |
| Micropuce | 131723120A | Microchip |
| Hauteur au garrot | 26.5 po | Height |
| Titres CCC | Canadian Champion | CKC Titles |
| Hanches PennHIP | 0.46/0.50 (835714) | Hips PennHIP |
| Hanches OFA | BMD-11393G25M-PI Good | Hips OFA |
| Coudes OFA | BMD-EL3947M25-PI | Elbows OFA |
| Yeux CERF | BMD-2726/2003-13 | Eyes CERF |
| Coeur OFA | BMD-CA411/59M/C-PI | Heart OFA |
| vWF (Cornell) | 135% Norm (122766.13-04) | vWF (Cornell) |
| vWF (Vetgen) | Clear (48714) | vWF (Vetgen) |
| ADN (MMI Genomics) | C0366669 | DNA (MMI Genomics) |
| Consanguinité (10 générat.) | 4.6 % | Inbreeding coeff. (10 gener.) |
Am/Can Ch De-Li's Shaping The Future (h:OFA-1959Good e:OFA-168Normal)
Hautbois Hanover (PennHIP:0.50/0.54 h:GDC-15541Excellent OFA-5784Good e:OFA-2415Normal)
Hautbois Enticing Sarine (PennHIP:0.54/0.58 h:OFA-4182Good e:GDC-8531Normal)
CAN CH HAUTBOIS MAESTRO (PennHIP:0.46/0.50 h: OFA-11393Good e: OFA-3947 Normal)
Can Ch Cliff of Franco (h:OFA-12Good)
Pouschka (h:OFA-5857Good e:OFA-2463Normal)
Constelation Ruby (h:OFA-4408Good)
Analyse ADN / DNA Analysis
MMI Genomics # C0366669
PEZ01
PEZ03
PEZ05
PEZ06
PEZ08
PEZ12
PEZ16
PEZ17
PEZ20
PEZ21
FHC2010
FHC2054
FHC2079
SEX
DD
EE
AA
GG
DF
ZZ
DG
BC
CD
EE
BC
CC
AA
XY