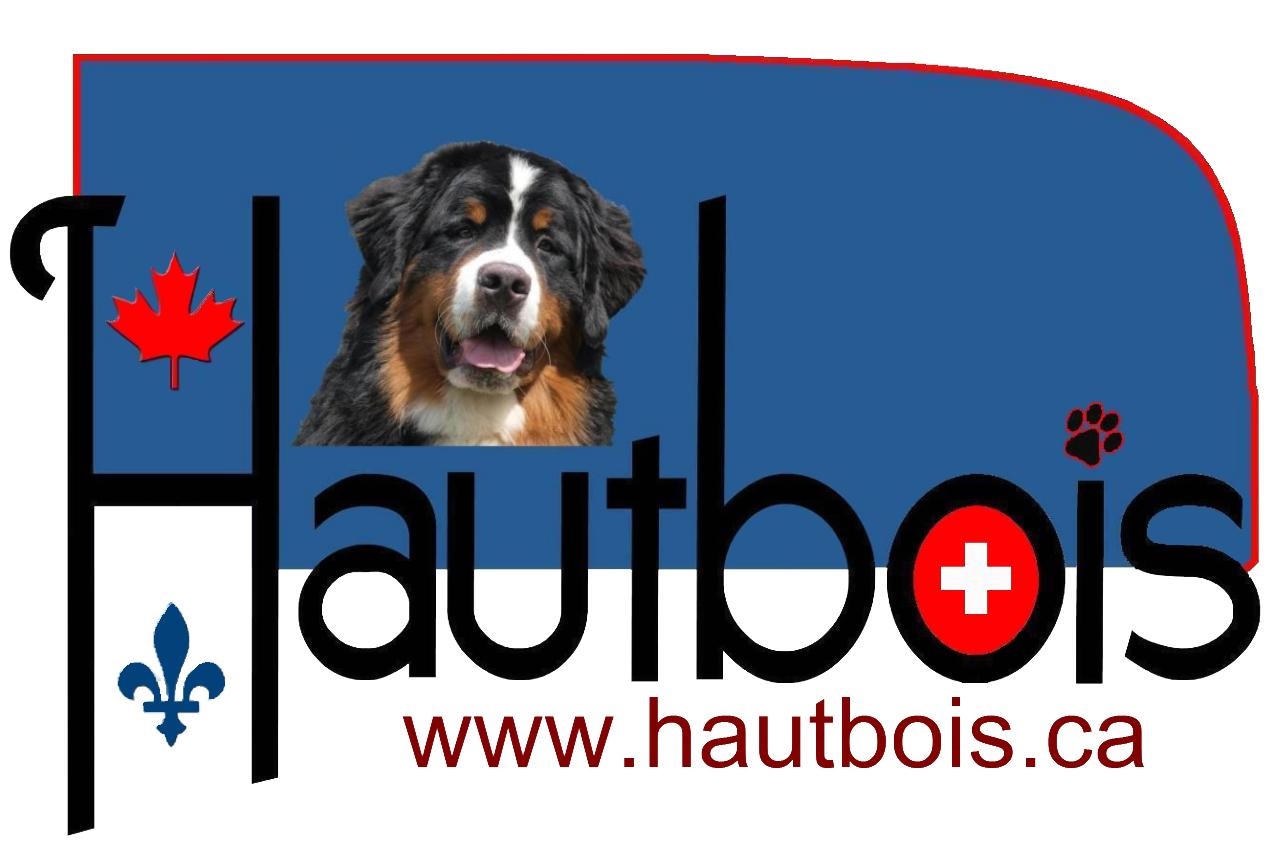 HAUTBOIS
Perm. Reg'd
(Depuis / Est. 1991)
Bouviers bernois
Bernese Mountain Dogs
Perro Boyero de montaña bernés
Berner Sennenhund
Adresse postale:
Postal address:
C.P. / PO Box 3131
Richmond, Québec
CANADA J0B 2H0
Tel.: (819) 823-5037
Adresse du chenil:
Kennel address:
Disponible sur demande
Available upon request
---
---
Certifications
| | | |
| --- | --- | --- |
| Général | Bernergarde | General |
| Hanches | | Hips |
| Hanches | | Hips |
| Coudes | | Elbows |
| Yeux | | Eyes |
| Coeur | | Heart |
| MD | | DM |
| vWF | | vWF |
| ADN | | DNA |
| ADN | AKC | DNA |
---
Membre éleveur
Breeder Member
---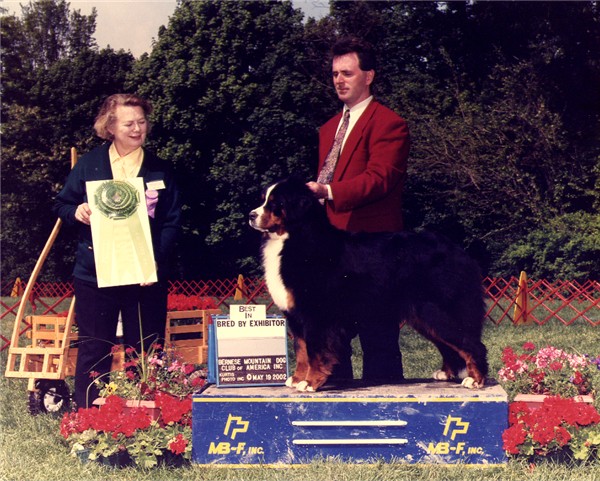 Nous avons participé aux
éditions suivantes de la Spécialité nationale annuelle du BMDCA
We attended the following BMDCA National Specialty Shows
2016 Frankenmuth, MI
2014 Hampton, VA


2012 Gettysburg, P

A
2011 Del Mar, CA
2010 Oconomowoc, WI
2009 Portland, OR
2008 Warwick, RI
2007 Louisville, KY
2006 Frankenmuth, MI
2005 Gettysburg, PA
2004 Mesquite, TX
2003 Long Beach, CA
2002 Wheeling, WV
2000 Delavan, WI
1999 Tucson, CA
1998 Warwick, RI
1997 Estes Park, CO
---
Site MENU is on top of each page
Copyright 2004-2016 Chenil Hautbois Kennels

La race

Le bouvier bernois est un chien de montagne originaire du canton de Berne en Suisse. Cette race fut au départ utilisée comme chien de ferme qui devait assurer la garde et effectuer occasionnellement un travail de trait léger (transport du lait vers la fromagerie).

Considéré par plusieurs comme l'un des plus beaux chiens avec sa robe à poil long tricolore, le bouvier est robuste et de grande taille, atteignant 24.5-27.5 pouces à l'épaule avec un poids proportionnel d'environ 90-120 lbs pour les mâles adultes, les femelles étant généralement un peu plus petites (23-26 pouces).

C'est un chien de travail recherché pour son tempérament stable. Fidèle, il sera un compagnon des plus affectueux, gardien sans être agressif, d'une patience presque sans borne avec les enfants. Très apte à l'apprentissage si l'entraînement est fait avec douceur, il est à noter qu'il est parfois utilisé ici au Québec comme chien d'aveugle, en race pure ou en croisement. Cette race, bien adaptée à un climat comme le nôtre, s'intégrera aussi bien à la vie intérieure qu'extérieure à condition qu'on lui fournisse un abri bien isolé, à sa mesure.


Bernese Mountain Dog

T

he Bernese mountain dog is originally from the canton of Berne in Switzerland. This breed was used as a farm dog; to keep watch and do occasional light draught work (pulling small carts).

Considered by many as one of the most beautiful breeds of dogs with its long, thick multicoloured coat, it is a hardy dog, large and often 24.5-27.5 inches at the shoulders with a well-proportioned body weighing between 90 and 120 lb for the adult males and slightly smaller for females.

Its impressive qualities make the Bernese a work dog in demand for its stable temperament; it is loyal and very affectionate as a companion, a good guard dog without being aggressive and it is sometimes used as a seeing-eye dog in Quebec both as a purebred and as a cross breed. This breed is well suited to our climate and will integrate to inside or outside surroundings providing it has a well insulated shelter built to its proportions.